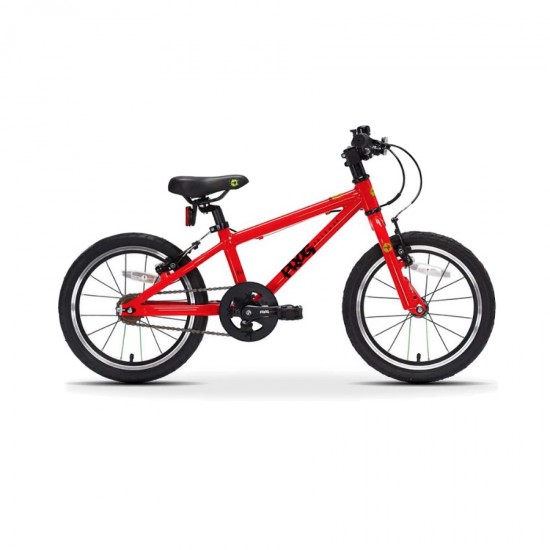 Hot
FROG 44 16" tire
Award Winner
Assign specific blocks to specific products. The most comprehensive product selection rules in Opencart.
Stock 03.01.2023: 3 bikes

Frog 44 Single Speed lasten pyörä
Why buy a Frog 44?
Lightweight 16-inch kids' bike that is easy to manoeuvre and easy for parents to carry
Small, easy-to-reach brake levers for better control and improved rider confidence
Patented Frog cranks for more effortless pedalling, increasing efficiency and comfort
Free 5-year warranty on frame and forks
Reflectors, mudguard and bell included
Suitable for 4 to 5 years with a recommended inside leg of 40cm-53cm
The first pedal Frog 44 kids' bike is a great value 16-inch bike for 4 to 5-year-olds and is perfect for transitioning from a balance bike to pedals. This premium first-pedal children's bike has a lightweight, sturdy aluminium frame, weighing just 6.39kg, making the bike easy to manoeuvre and easy for parents to carry.

The Frog 44 kids' bike is equipped with high-spec age-specific components, designed for comfort and longevity, including a child-sized saddle for the perfect riding experience, and Tektro brakes with small, easy-to-reach brake levers, which means better control and improved confidence for young riders. It also comes with Kenda small block eight tyres for maximum stability and grip and our patented Frog cranks, for more effortless pedalling, which reduces the distance between the pedals increasing efficiency and comfort for children.

Not ready for pedals yet?
Our lightweight first pedal bikes are a great confidence booster and can also be used as a balance bike for a taller child by simply removing the pedals.

Get sized for cycling success
The Frog 44 first pedal bike is suitable for 4 to 5 years with a recommended inside leg measurement of 40cm-53cm.

One of the biggest temptations is to buy a child's first bike that they will grow into. However, this will likely have the opposite effect and put your child off bikes and cycling altogether! Another common mistake is to purchase a budget kids' bike but these models are often as heavy as a child which can lead to frustration at not being able to cycle. That's why Frog bikes are lightweight and designed to specifically accommodate the anatomy of children.

The data obtained during our child-specific frame design research has helped us create a helpful kids' bike sizing app. View our
bike sizing guide
to discover the best-sized bike for your child or alternatively speak to one of our
local stockists
about our children's bike range.
Stock:

In Stock

Model:

frog-48-16-rengas
Frog Bikes