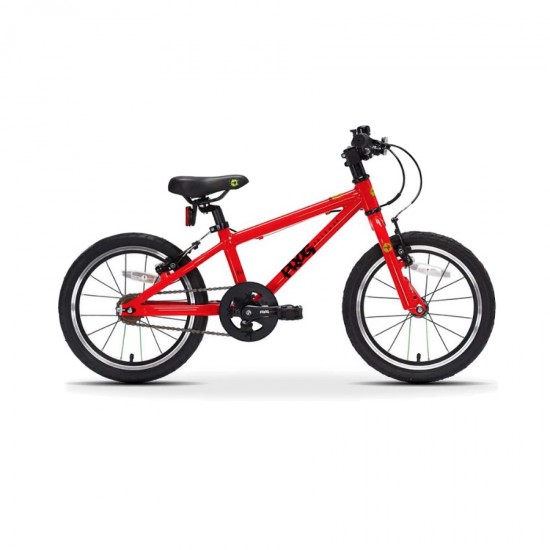 Hot
FROG 44 16" tire
Award Winner
Assign specific blocks to specific products. The most comprehensive product selection rules in Opencart.
Stock 03.06.2021: 30 bikes

Frog 44 Single Speed lasten pyörä
44 Single Speed on tarkoitettu 4-5 vuotta vanhalle kuskille jonka jalan sisämitta on vähintään 44 cm. Pyörä on helppo oppia ajaa, ja lisää nopeasti pienen polkijan itseluottamusta. Voidaan aluksi myös käyttää potkupyöränä irroittamalla polkimet.
Kevyt ja tukeva runko
Tektro käsijarrukahvat lapsen lyhyemmille sormille
Kokoon sopivat patentoidut Frog-kammet
Satulan pikasäätö TAI kuusiokololla säädettävä. Valitse itse!
5:n vuoden takuu rungolle ja haarukalle! (Rekisteröidään tehtaalle)
Heijastimet, lokasuojat ja soittokello
Rengaskoko: 16" Single Speed
Runko: 6061 T6 lämpökäsitelty alumiiniputki
Haarukka: 6061 T6 lämpökäsitelty alumiini
Kammet: Frog Bikes patentoidut suorat alumiiniset kammet, kasettikeskiö
Eturatas: 32T teräs
Jarrut: Tektro 836AL
Ohjaustangon kannatin: Frog Bikes Aluminium 38mm
Ohjaustanko: Frog Bikes Aluminium - 460mm
Gripit: Frog Soft Lock-on
Satula: Frog Bikes lastensatula
Satulatolppa: Aluminium, Quick Release
Polkimet: Plastic with Ball Bearings and Reflectors
Renkaat: Kenda 16" x 1.5" renkaat
Lokasuojay: Muoviset lokasuojat, tukeva ruuvikiinnitys
Stock:

In Stock

Model:

frog-48-16-rengas
Frog Bikes